Promo-list specific guidelines:
M/M newsletters are sent weekly on Fridays. Other newsletters are sent on a given Friday if there is an accepted book to promote.
We promote four types of books: M/M (or M/M/M+, or books with bi/trans/aro/ace men in gay stories) on our M/M list, F/F (or F/F/F+, or books with bi/trans/aro/ace women in lesbian stories) on our F/F list, bi main characters (or MMF and MFF, but not MFM) on our Bi list, trans (including nonbinary, agender, genderfluid, etc) characters on our Trans list.
You can submit to multiple lists; M/M with a bi trans man to our M/M, Bi, and Trans lists, for example.
General guidelines:
Romance titles only. Steamy romance is okay, but not erotica. Books should have a primary or strong secondary romance plot. For lesser-represented books (such as trans or FF stories), we may accept stories with romantic subplots.
For Weekly Deals, books must be 99 cents or free as of Friday, 12am PST/3am EST/8am GMT. No preorders. Must stay discounted for Friday and Saturday. Please submit ASIN/purchase links by Thursday at the latest.
For New & Hot, books must have been published no more than 30 days before promo date, must not have been available cheaper before, and must be more than 99c ($2.99-$4.99 preferred). No preorders.
An author cannot be promoted in consecutive weeks, except pre-scheduled consecutive series promotions. You must wait 10 weeks between promotions of the same book.
Submission is not a guarantee of acceptance. We will look for books that have well-written, error-free blurbs and interiors, high-quality covers, HEA/HFN endings, professional editing, and/or good reviews.
---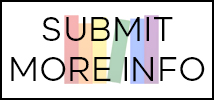 If you've been accepted for a promotion but have not submitted your ASIN or links, submit additional information with this form.
---